I never thought I'd have a car covered in bumper stickers. I don't…yet. While I have five, I don't own a stick figure family or the annoying "MY KID'S AN HONOR STUDENT." You're welcome.
Years ago, my husband and I displayed stickers from our respective universities on one car's side windows. Our other car had the HRC logo on a back passenger window. We were trying to be unassuming.
Then the 2016 election happened. And I no longer gave a shit.
I know putting a bumper sticker on my car isn't going to change minds. But it makes me feel like I'm doing SOMETHING. Even if it's just announcing to the world that I'm not happy with the current regime.
Think about it. There's something about a captive audience. You're waiting at the the light and have to keep an eye on the car in front of you. If the message is succinct, it'll be seen regardless. Like the one I have on my back bumper that says "RESIST."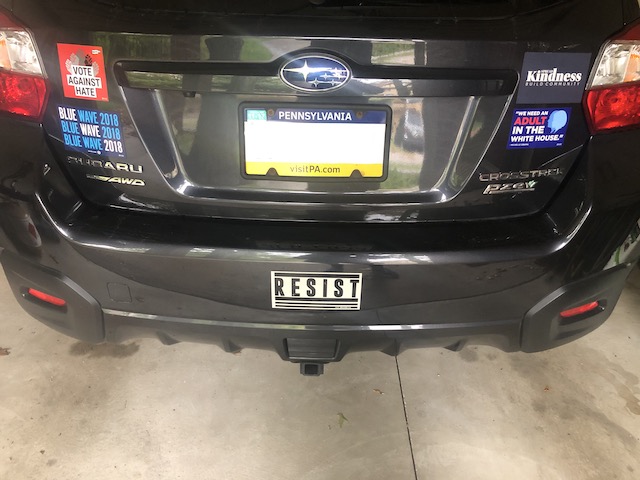 Move On is where I've gotten most (or all?) of my stickers. And they're free! Every once in a while, I'll get an email about a new sticker. Since I'm often on my computer, I'm able submit my request immediately before stock runs out.
One of my favorites is the one that quotes Michelle Obama: "WE NEED AN ADULT IN THE White House." I have yet to see that on another car, which makes mine even more special.
My BLUE WAVE 2018 car magnet will hopefully be replaced by BLUE WAVE 2020 (get on that please, people!) and/or one that has the Democratic candidate's name on it. As soon as we know who that person is, you can bet I'll have him/her represented!
I'm sure I've been on the receiving end of people who aren't happy with my statements, but again, I don't give a shit. They show my support for basic human decency, for a world that's going up in flames (literally). And it's always rewarding when strangers express their solidarity. I even had someone ring my doorbell a few months ago just to tell me that she'd seen my car around the neighborhood. She told herself she had to meet the person who had such great stickers. We talked about volunteering for organizations like the League of Women Voters and our shared hope that our efforts will prove fruitful.
Then today, while I was putting groceries in my trunk, a stranger approached me with the "SPREAD KINDNESS BUILD COMMUNITY" magnet. She gave it to me, saying she liked my stickers and found this magnet in Virginia. She wanted me to add it to my collection, and gave me a happy thumbs up as I drove away.
Of course, I don't put anything permanent on my car. If it's a sticker, it's vinyl, the kind that's easily removable. Otherwise, it's a car magnet, which comes right off. Hopefully after the 2020 election, I can remove Michelle's quote. By then, my daughter will be a college student; we can display some college spirit. I'd much rather do that than have to worry about the fate of our country.
Seriously — the news is so demoralizing these days. It's always reassuring to know that we're not alone in this fight.