[tense music]
Because there's not much going on in the world right now, we've been anxious for the MJ and Jessenia showdown. It's as expected: more drama and more lies, with another two-faced antagonist eliminated. Matt even fakes MJ out by holding up the rose and saying, "MJ…I can't give you this rose." Guess he learned something from being an athlete.
We first see Abigail at the start of the cocktail party, when the girls are talking as they wait for Matt. Chris shows up instead, informing them that Matt wants to skip the cocktail party as he knows what he wants to do. The girls freak out.
At the Rose Ceremony, Abigail is in the back row again. She already has a rose from last week, so we can relax.
During a commercial break, ABC airs an ad: "Now casting seniors looking for love. Go to abc.com/casting." So many questions…
First 1:1
Now there's 11 girls left. Five have had a one-on-one, six have not. Pieper gets the first 1:1. But first, more drama. Serena C. is fed up with Katie, so she seeks her out. This devolves into an argument. The other girls are in sleeping bags by the fireplace when they hear the arguing. The first sign of this is when Abigail looks up quizzically. Sure, it's got to be loud because the deaf girl can hear it.
There's an interlude when a girl drives up to the property in a white van. She introduces herself as Heather Martin and says she's there for Chris. She was on Colton's season and is good friends with Hannah Brown, who spent time with Matt in quarantine and says he's the perfect match for her. She wants to meet him. Chris acts surprised, laying it on thick: "This is just bizarre. Just when you think you've seen it all."
Pieper and Matt walk through a forest in the dark, holding lanterns. She flips a switch and sees their very own carnival, all lit up. Somehow they fit that in plus a dressed up dinner. Sadly, her family doesn't communicate love. She tries to overcome this by telling Matt she's falling in love with him.
I've lost track of how many women have now said this to him. It's ridiculous, especially when you consider how little time they actually get with him. Ashley I. said on Instagram that the amount of solo time they typically get with the lead during group dates and cocktail parties is about 10 minutes. And each episode usually comprises four days!
Obviously, they're in a constrained environment without other distractions. Naturally this will make Matt the focus of all their thoughts. But he's looking like less and less of a prize. He was partying with Tyler C. (his best friend from Hannah's season) in Tampa all weekend – maskless. He's being called Covid Matt. Supposedly his mother is a big Trump supporter and he's a Republican. [If you are too, you can find another blog to follow.]
Group Date
Abigail is again part of the group date. When the girls show up, Matt is wearing a bowling shirt and skinny jeans that look like leggings. Not a fan. Abigail tells the camera, "I can't control whether I get a 1:1 date, but I can control, you know, what we spend our time talking about." She adds, "Matt and I had a spark the first night and we had potential, but we need time."
If you can't figure out the date from Matt's attire, find another blog to follow. The date is bowling, with pizza, nachos, and wings. Abigail looks around and smiles. This is a much better group date than outdoor obstacle courses. But this does involve a competition, as Chris shows up to tell them the winning team will get a romantic evening with Matt. The losing team will walk home in the rain.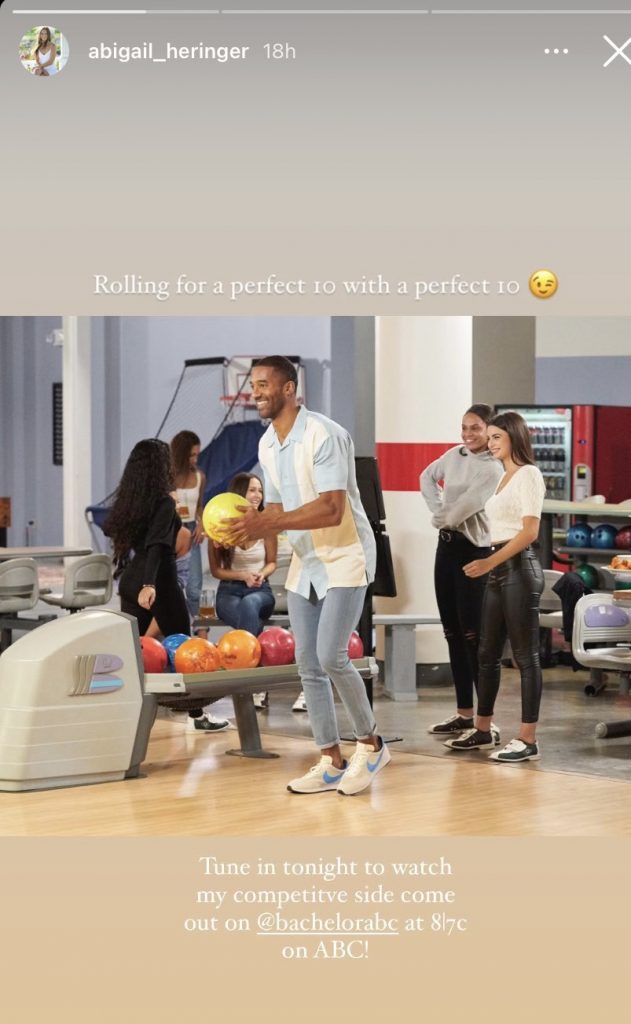 Abigail is on the blue team, aka the Blue Bombshells. The opposing team in pink shirts is the Pink Petals. "I have been on the losing team," Abigail says. "I've had to walk home, so we are not losing this. We're gonna win. There's no way I'm gonna lose twice." She goes first on her team, and shows spunk as she walks to the lane. Unfortunately, she only knocks down one pin.
The Blue Bombshells are down by a lot, but they battle back and it literally comes down to the last few frames. Abigail is the last to bowl for her team. Serena P. — on the other team — says, "Abigail, I love you, but gutter." Did Abigail hear this? Was this taking advantage of her hearing loss?
Abigail gets a gutter ball. "My team is going home, and with the pressure of hometowns being in a few weeks, it's frustrating when you have that potential and then you can't explore it, like, you just have to wait and wait," Abigail says. "I-I-I don't know, I'm just, I'm not getting any time. It's not even a little time. I'm just not getting any time." She gives Matt a good hug good bye.
Back at the house, she says, "I'm not even upset yet, like, I'm just angry." She tells the other girls, "It sucks getting that First Impression rose, seeing that potential, and then week after week, you know, just…waiting. It's just like… how am I supposed to take this seriously when I can't even get time?"
But then Chris delivers a personal date card. Matt feels terrible and needs time with them, and invites them to join the party. The girls erupt in shrieks and cheers. Abigail bounces up and down on the couch.
During Matt's speed make-out sessions, Serena P. says she's falling for him. The girls say so many of the same things; it must be hard for him to differentiate. Then again, this is a guy with a thigh fetish. Michelle gets the date rose.
Katie's 1:1
Before Matt's date with Katie, he gets some bro time with Tyler C. as they play pool. Katie does the patented run and jump when she sees Matt. They meet at a spa, but they won't be partaking of any services. Instead, they'll be pranking Tyler, whose masseuse is actually an actress who will be following their commands. Tyler checks himself out in the mirror before he gets on the massage table, confirming my impression of him.
At their dinner date, Matt holds the rose while he tells Katie he's letting her go. What a tease. Now she's the favorite to be the next Bachelorette. Either way, she's better off.
Cocktail Party
In a fancy dress, Heather drives up to the chateau because she's quarantined and has been allowed to join the show. At the chateau, Abigail is the first one Matt grabs. "Can I steal you, Abigail?" he asks. She laughs and apologizes, I'm guessing because she didn't realize at first that he was talking to her.
"Look at you!" Matt says. She's in a gorgeous green dress with a plunging neck.
"I just really enjoy time with you and I just want to reiterate that to you every time that we're together that I look forward to seeing you every night," he tells her. They kiss and hold hands in the precious <10 minutes they have.
Heather struts into the chateau, smiles at the girls, and takes a hard left to find Matt. Poor Pieper, whose conversation with Matt is rudely interrupted when Hannah walks in. Matt busts out in laughter because he can't believe his good fortune. The women, they just keep coming!
The previews show Heather crying and complaining about how mean everyone is. In the end clip, I see what looks like a bald spot on the back of perfect widdle Matt's head.
Abigail is now officially in the top 10. I'm rooting for her to get more screen time while also hoping she doesn't "win" this pathetic contest.